Cello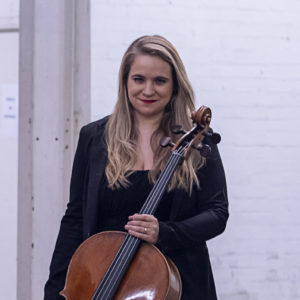 Cellist Jessie Ann Richardson is rapidly establishing herself as both a soloist and chamber musician around the UK and Europe, having thrilled audiences with her virtuoso and sensitive musicianship. Chosen by the Park Lane Group for their prestigious Young Artist Series, Jessie made her London Purcell Room Debut in January 2011.
Having studied at the Purcell School, then at the Royal Academy of Music with David Strange and Moray Welsh, Jessie won the Herbert Walenn Prize for cello and graduated with the highest honours.Musical inspirations include the late Bernard Greenhouse, whom Jessie was very fortunate to have studied privately with, at his invitation during the winter of 2007 in Cape Cod, USA; And Lluis Claret whom Jessie studied with in Barcelona in 2011 and is very grateful for the Countess of Munster and Martin Musical Funds to have enabled her to do so.
Jessie is a founding member of the renowned Piatti Quartet, which has won many prizes including the St Martins in the Fields Chamber Music Competition, Martin Fund/Philharmonia Award, Park Lane Group Artist 2010-2013 and were for two consecutive years, Chamber Music Fellows at the Royal Academy of Music. A busy concert schedule has taken the quartet all over the UK and also performances in Australia, Spain, Austria and France. They have appeared several times live on BBC3 both in concert and for the programme 'In Tune', on Dutch radio and on Australia's ABC network. Several recent CD releases include a Mozart CD for Linn Records and a Mendelssohn recording for Champs Hill.
Jessie is looking forward to recitals on the countess of Munster Recital Scheme and currently plays a Celoniatus Cello made made in 1741 around Turin kindly lent to her by a patron of the Beares International Violin Society.